KNOXVILLE, TENNESSEE, (March 8, 2018)
North of downtown Knoxville is seeing an exciting resurgence with the opening of the Holiday Inn North.  The beautifully appointed hotel opened its doors the first week of March.  The 122-room property is the first full-service hotel to open off I-75 North, Merchant Drive exit.
The comfortable sleeping rooms have a choice of a king bed with a walk-in shower and curved glass doors or two queen beds with a shower and tub.  There is ample closet space, a full dresser, and a sleeper sofa.  Each room has a 43" flat screen TV, free WIFI and phone with voicemail usage.
The Holiday Inn North has banquet space that will comfortably seat 80 for a full course meal prepared by the in-house Chef.  The large room can be sectioned off into two (2) separate meeting spaces for family reunions, civic functions, and meetings.
The Bespoke Grill and Bar is located on the ground floor of the hotel. The full-service restaurant and bar is open for breakfast and dinner nightly with a video lounge area, outdoor patio and comfortable indoor seating.  You may enjoy dinner in the restaurant or place an order to enjoy a quiet meal in your room.
The Holiday Inn Knoxville North is an IHG Green Engage Hotel.  By staying at this hotel, you are participating in an advanced, world-wide sustainability effort.  They understand that is important to have an active role in protecting our environment and they've made it easier to choose a hotel that matches your sustainable values.
The non-smoking hotel has a fully state-of-the-art equipped fitness center, guest laundry, outdoor pool and a 24-hour front desk staff with a sundry shop for the convenience of their guests.  The hotel is within walking distance of several local and national chain restaurants.
The Holiday Inn Knoxville North is conveniently located off I-75 North, Exit 108 Merchant Drive behind the Red Lobster at 5634 Merchants Center Boulevard.  The hotel can be contacted for room reservations and meeting space by calling direct to 865-687-8989.
About Greater Knoxville Hospitality Association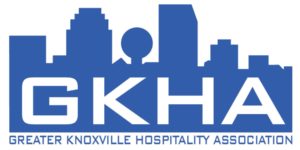 Greater Knoxville Hospitality Association (GKHA) is a not for profit membership organization for hotels/motels, restaurants, venues, attractions, service and suppliers of the hospitality and tourism industry – dedicated to enhance the economic, legislative and social interest of its members throughout the Greater Knoxville area.
Contact:  Jill Thompson, 865-567-6325
Greater Knoxville Hospitality Association
PO Box 239   Knoxville, TN 37901
865-342-9133 office
865-947-9888 fax
865-567-6325 cell
gkha@gkhospitality.org